Both the marine brush and the wash brushes for cars will satisfy all outdoor summertime excursion cleaning duties. Before setting off to take on any adventures on your truck, boat, or camper, it must go through a super intense wash down. Just think about all the fun you had last summer on your truck, boat and camper.
The more fun, the more there is to clean. The more action-packed celebrations result in a messier mess. Perhaps the vehicles were clean at the end of the season, but maybe not. If they were not cleaned at all, they deserve the deepest cleaning possible. If they were cleaned, they probably collected dust while in storage.
Despite any situation, we encourage you to completely clean your vehicles before the next adventure takes place, doing this will please yourself and your guests to a squeaky-clean interior and exterior of your truck, boat, or camper. Each vehicle is special in its own way. Because so, we are going to delve into analyzing each one on its own. We will start our discovery with the truck.
Whether you own one small Chevy truck, or up to a fleet of semi-trucks, that's quite a range, but all trucks are included in the fact that they need to be cleaned by the best truck wash brush on the market. At St. Nick Brush we have a "truck wash brush" provided in our product line.
And, we must claim it to be the best truck wash brush that you can find, anywhere. According to our official description, our truck wash brush has flagged fibers for gentle, efficient cleaning action. Fibers are staple set in a solid, smoothly sanded hardwood block. The soft plastic bumpers eliminate scratching. The hardwood block has one threaded angle hole. All truck wash brushes have a flow through hole.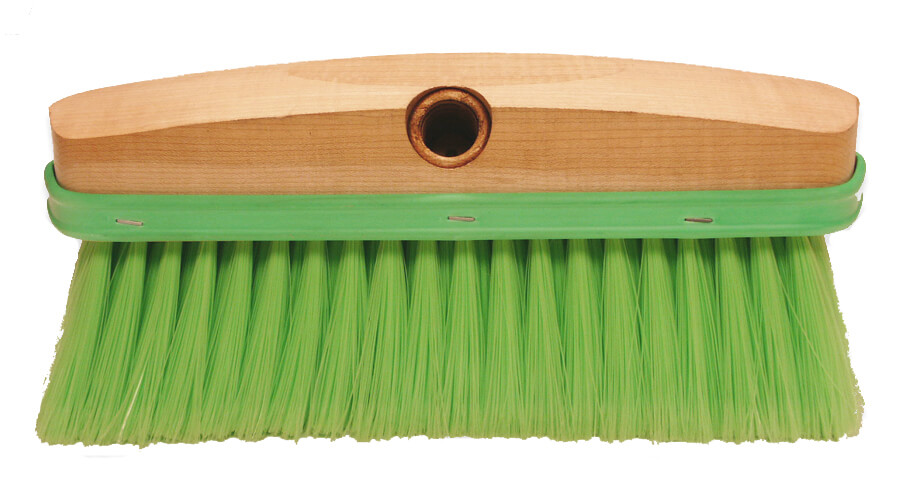 The economy truck wash brushes have a thin block and without a bumper. They use a threaded handle, and handles are not included in the price. When it comes to packaging, they are boxed individually and packaged as one dozen per shipping carton. Be encouraged now that these specialty St.Nick Brush truck wash brushes are here to save your truck, no matter how small or big your truck may be.
Submerge your truck in soapy water, scrub it with all your muscle might and allow the truck wash brush to eliminate all dust, dirt and buffer out every single scratch that has flawed the once pristine surface. Make your truck like brand new again just as fresh as the first day you fell in love with it. It is a fact that truck washing can be a huge project, especially when there is a lot of surface area to cover without missing an inch.
Truck wash brushes can be use for anything ranging from a SUV, pickup truck, semi-truck or camper. Of course the SUV or pickup truck is usually parke at home. So all that you need is your wash brushes for cars on hand, roll out your vehicle into the driveway. And give it a good bath, from the interior to the exterior. When it comes to larger vehicles, those including the semi-trucks or campers.
They may be parke elsewhere so it would be wise to have a truck wash brush on hand in that location as well. Another idea is to keep the truck wash brush handy by storing it away inside of the truck or the camper. Semi-trucks have long highway journeys, they travel state to state and nearly many cross the country, from sea to shining sea. Semi-trucks are important as they serve to ship; very important products to many customers or suppliers, so this shows that truck journeys must get the job done, and as quick as possible. Campers, on the other hand, provide the ultimate adventure of traveling and sightseeing.
These trips are made for wanderlusts who appreciate the wonders of the United States of America; and want to experience the natural sciences; whether it be biology, geology, botany, or any earth science. Historical tours are another option to take for those who want to delve into our early beginnings by taking paths and routes of famous explorers to see where they led us to this present day in age. Or perhaps there is a certain festival you and your guests want to attend.
The top favorite American destinations via camper driving include; Blue Ridge Parkway, Big Sur Coastal Highway, Columbia River Highway, Route 66, Historic New England, Yellowstone National Park and the Rocky Mountains, GreatLakes Region, Desert Southwest, Southeastern Seaboard, and New Orleans and the Gulf Coast. We are not limit to travel within our own country, there are international locations to consider as well. Campers are most loved by those people who are not as high maintenance, are comfortable enough to park; their camper in any sort of wilderness or desert and are fearless to sleep through the night underneath the vast blanket black, starry sky.
Next, it is time for our marine brush to steal the show. We describe the marine brush as one that can be used for cleaning boats, trucks, or campers. This right here shows that the wash brushes for cars is so exclusive. Since it is an all-in-one for your entire team of vehicles sitting in the garage, on the campgrounds or out on the dock. Before embarking on that week- or month-long summer getaway, we encourage you to fully clean out your truck, boat or camper from top to bottom and from inside to the outside.
If your trip is a long one, do not forget to bring you. Before setting off to take on any adventures on your truck along with you. While in the trenches of unknown territory, it is wise to hang tight on that marine brush for a quick wash down. Who knows, you might come upon dirt paths while adventuring through the wilderness. According to its name, it is obvious that the marine brush is associate with cleaning boats. The sturdy handle and strong bristles will allow you to perform a heavy-duty job. That requires a ton of elbow grease.
Boats build up an unusual, funky type of mess, very different in comparison to whatever only sits on land. Boats may sit in a garage or be chain to a dock. For some of the time, if you park the boat in the garage, the boat is happily loung on land. Being in chains on the dock, however, allows for waterfront residue to build up. And then the boat sets sail, withstanding the calm or harsh weather. Being attack at all angles with wear and tear and perhaps the exhaustion of hosting big summertime parties with loads of guests, the boat sure goes through a whole lot.
This shows that a boat needs extra special tender care. To do this, give your boat a deep massage with a marine brush from St. Nick Brush Company. Such a small investment in a cleaning brush can make the world of a difference. You will witness this glorious outcome after washing your boat and once again, being able to enjoy the upcoming excursion.
Whether docking your boat at a local lake or river, diving in the Atlantic or Pacific oceanfront or cruising along an exotic off the map location such as in the Mediterranean, your marine brush will be a trusted best friend. In the market, while especially browsing online. There are several Before setting off to take on any adventures on your truck and marine brushes to browse, but look no further because the St. Nick Brush Company provides you not only both brushes, but keep in mind that we have the best brushes among competitors.
Why are we known to have the best truck wash and wash brushes for cars? First, it is the quality of the pieces and parts that make up the entire. Before setting off to take on any adventures on your truck. The hardwood is the finest around, sustainably sourced. And the fibers that make up the bunches of bristles are durable, resilient, scratch less, water resistant, oil resistant, will not bend and break, and promotes easy going sweeping action.
Amish craftsmanship is superior in the highest form.
The Amish craftsmen take much pride in their creations, have loads of experience and are very attentive to detail. The Amish have an eye for design and will not finalize a project until it is finish to perfection. Look no further than the St. Nick Brush Company branded wash brushes for cars and marine brushes.
We want to contribute to your summertime explorations, celebrations and fellowship with family and friends. Cleanliness is not only healthy, especially during these current circumstances with COVID 19. But keeping clean also shapes a fresh and suitable environment for the highest level of comfort. If you care enough about your own well-being, for others, and your treasured trucks, boats, and campers.
Then utilizing a special Before setting off to take on any adventures on your truck or a marine brush is a key component to making clean happen. These vehicles mentioned take on many miles of wear and tear. And that is why they so desperately need a truck wash brush or a marine brush.